Thailand
February, 2002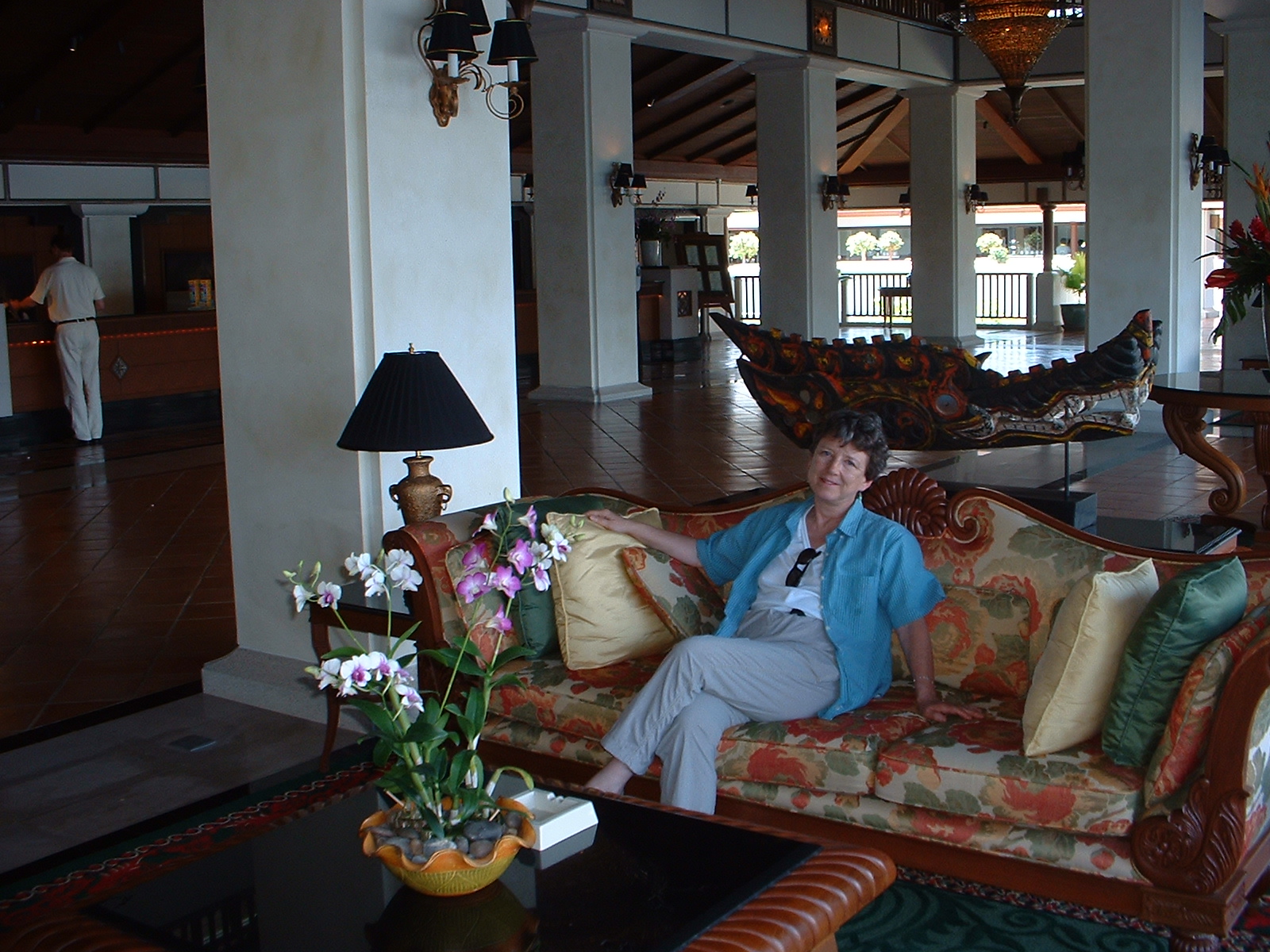 Click here to see a slide show of some of the pictures that we took.
We had to cancel a Marriott time share commitment at the last minute the year before so we could only book a replacement on short notice. The Marriott in Phuket was the only one available, so we decided to travel to Thailand.
We flew from San Francisco to Taiwan and then on to Bangkok. We booked in to the Marriott Resort after a harrowing taxi ride with no airconditioning in 40C heat. But when we arrived, we loved it. That week we took many river ferries and visited many of the Bankok tourist sites. The Thai people are gentle and polite (usually!) but their environment is often very 3rd World.
The next week we flew to Phuket, rented a car, and drove to another Marriott, this time their vacation resort on Phuket. What a wonderful experience. The resort is fairly isolated and is situated on a beautiful, pristine beach almost totally unused except for the Leather-back turtles who spawn there. It had only recently opened so there were few tourists, giving us our own pool it seemed. Gorgeous surroundings and three good restaurants on site, so we had no trouble spending a lot of time at the resort. However, we did get out exploring the island and quite enjoyed our first (and last) elephant ride. Perhaps the best moment was the full day snorkelling excursion for just the two of us.
The last few days, we stayed in Chiang Mai at a five star hotel (things were so cheap there that luxury was easy to justify). The best experience of that trip was the full day cooking class that we took. Each of the dozen or so students got their own cooking station and we were taught how to make about 6 Thai dishes. We finished cooking by lunch time and then got to test the results. The afternoon included lessons on food presentation (mostly how to carve vegetables).
While we probably wouldn't ever go back to Thailand, we were both very glad that we had the experience. It was a great holiday.