Cowichan Lake Cycling Loop
Lake Cowichan, BC
Directions
The starting point is in the town of Cowichan Lake, BC. Park across the street from the A&W, at this GPS location:
48° 49' 23.16" N
124° 03' 25.62" W
The Trip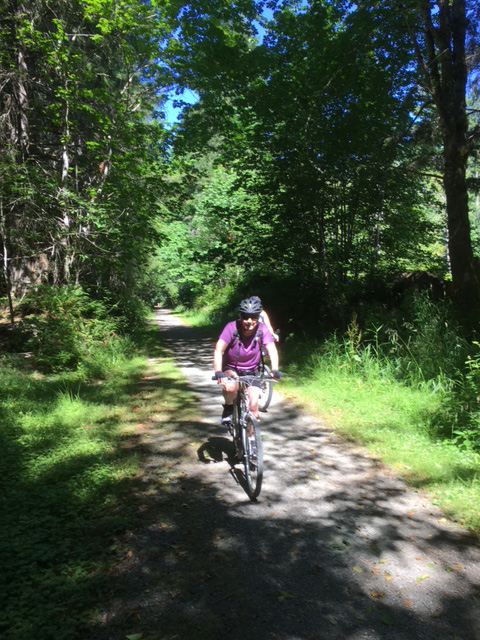 Exit the city by traveling east on the bike path, trending North until you cross a cycling bridge.
The first section, about a third of the route, is a straight, flat, hard packed pea gravel path. Easy riding for a mountain bike, a little harder for a road bike.
It's a beautiful path through the woods, with dappled sun beams and the occasional open space to see homes or views.
After about 8K, turn right on Skultz Falls road, starting with a short uphill ride.
This second section is mostly down hill on an oil packed gravel road, reaching a small day use park on the Cowichan river. It is similar to pavement but there are lots of bumps and potholes, so be careful not to go down too fast. At the bottom of the hill, ride through the park to the trail head and start west towards Cowichan Lake.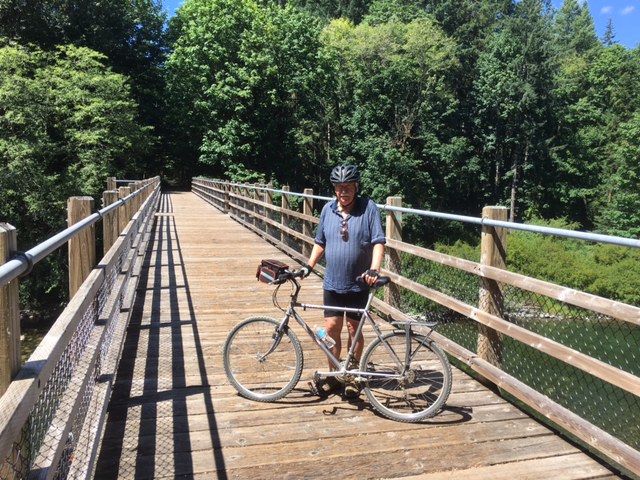 The last section is a path along an old rail line which is hard packed earth with a lot of bumps due to roots and embedded rocks. Similar to the first leg, but not nearly as easy to ride. It's gently uphill and OK with a mountain bike but it would not be pleasant riding with a road bike. It's similar to the first section but you see into the woods more and pass a few country properties. You cross over a couple of tressels that let you have a view of the river and the hills behind.
Finally, you start to see Cowichan Lake homes and you continue on the bike path until you reach city streets again. Continue riding to the traffic circle and take the road downhill. At the bottom of the hill, you'll reach the original bike path where you can turn left and ride a short distance to your car.
Map
The map below is a Google "My Maps" embedded document and you can double click on it and expand it to see it better on either your computer or smart phone. If you'd like to download the actual GPS data to use instead, click on this link: Cowichan Lake Loop
Elevation Profile